Daily Archives:
January 10, 2014
Last month we did an experiment on making a clock from  potato  batteries.
 These are the things we needed:
2 Copper and Zinc plates , connecting wire, digital clock with wires , transparent tape and 2 potatoes.
This is how we did it:
We assembled a 'connection pair' by connecting the pair of   Copper and Zinc plates through the hole on the plate. Gently we twisted the wire to secure it to the plate. We covered and secured the connection with the adhesive tape.
Next we connected the black wire from the LCD clock to one of the Zinc plates. Then we connected the red wire from the LCD clock to a   piece  of Copper plate. Now all the components were connected. We inserted the Copper and Zinc plates into the potatoes , taking care that the metal plates  didn't touch each other.
SETTING THE CLOCK
When all the metal plates were first inserted into the potatoes , the LED screen showed a static display of "12:00".We pressed A [top button] once and the clock started working. We saw the 2 dots in the middle flashing .We pressed B [bottom button] twice to obtain the set month mode , we pressed A to adjust the right month. We pressed B to confirm and the display switched to the day mode . We pressed A to adjust to the right day. We pressed B to confirm and switched to set hour mode. We pressed A to adjust  to the right hour.  We pressed B to confirm and switched to set minute mode .   We pressed A to adjust  to the right minute and pressed B to confirm this. After the minute was confirmed , we pressed A once . The set time was displayed.
Our potato battery lasted for a day or so but then the clock began to slow down. The next time we do this experiment we will try other foods like lemons or oranges.
By Simon O` Mahony  and Peter O `  Shea  🙂
We really enjoyed preparing for Christmas.
Ms. Coleman has an advent calender and we counted down the days!
We made Christmas cards and hand print angel art.
We sang Christmas songs on the stage for the other classes.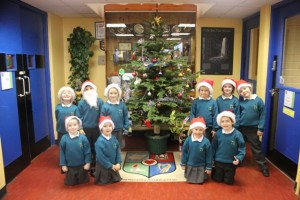 This week we have been reading the big book 'Elmer and the Wind' by David McKee.  We loved the colours of our favourite elephant so much that we decided to make our own Elmers.  Look at our fantastic work!
Do you recognise anyone in this photograph?
Here we are dressed up in costumes to mark Halloween!
We played traditional games like bobbing for apples.
Ms. Coleman shared a barmbrack with us. There were lots of different things in the bairín breac and everyone got something their slice – a pea, a cloth, a stick, a coin or a ring. There was only one ring and Brooke got it!