Author Archives: Elaine
There were a lot of eggs, balloons, salt, sugar and even a hairdryer floating around the room today as we did experiments ranging from static electricity to density and from forces to solutions. Some serious cleaning up after a few explosions involving lemon juice and baking soda!
Sixth class had great fun dressing up in their pj's to take a pic for the school calendar. They were only fit for sleep that day and not much else!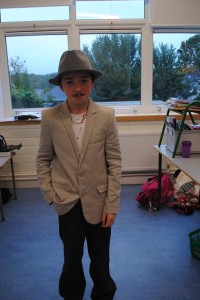 Our mafia kid!
Snug in a onesie!
A rough encounter!                         Thumbs up!
Monkey business!                            Swotting hard!
Bloody but smiling!                          Colour Queen!
Sick of chores!                                  Zombie land!
Who are under those masks?
Looking a little pale.
Karate kid.                                       Who are you?
Funky fashion!
More funky fashion!
So many of our class were involved on both our school teams. Comhgairdeas!